Untrustworthy: The Knowledge Crisis Breaking Our Brains, Polluting Our Politics, and Corrupting Christian Community
Coming October 11, 2022
Pre-order Now
Which news stations should I watch to be a responsible news consumer? How do I know what is true and whom I can trust? What can I do to combat all the misinformation and how it's impacting people I care about?
Many Americans are agonizing over questions such as these, feeling unsure and overwhelmed in today's chaotic information environment.
American life and politics are suffering from a raging knowledge crisis, and the church is no exception. In Untrustworthy, Bonnie Kristian unpacks this crisis and explores ways to combat it in our own lives, families, and church communities.
Drawing from her extensive experience in journalism and her training as a theologian, Kristian explores social media, political and digital culture, online paranoia, and the press itself. She explains factors that contribute to our confusion and helps Christians pay attention to how we consume content and think about truth. Finally, she provides specific ways to take action, empowering readers to avoid succumbing to or fueling the knowledge crisis.
Subscribe to Bonnie's free Substack newsletter for updates on this project!
---
A Flexible Faith: Rethinking What It Means to Follow Jesus Today (Hachette, 2018) is a readable exploration of the lively diversity of theology and practice within Christianity.
"Bonnie Kristian's A Flexible Faith is such an important and timely work. This book insightfully illustrates the pluralistic context within which all theological thinking must be carried out today." - Greg Boyd, pastor, theologian, and author of Across the Spectrum: Understanding Issues in Evangelical Theology (excerpted from the foreword)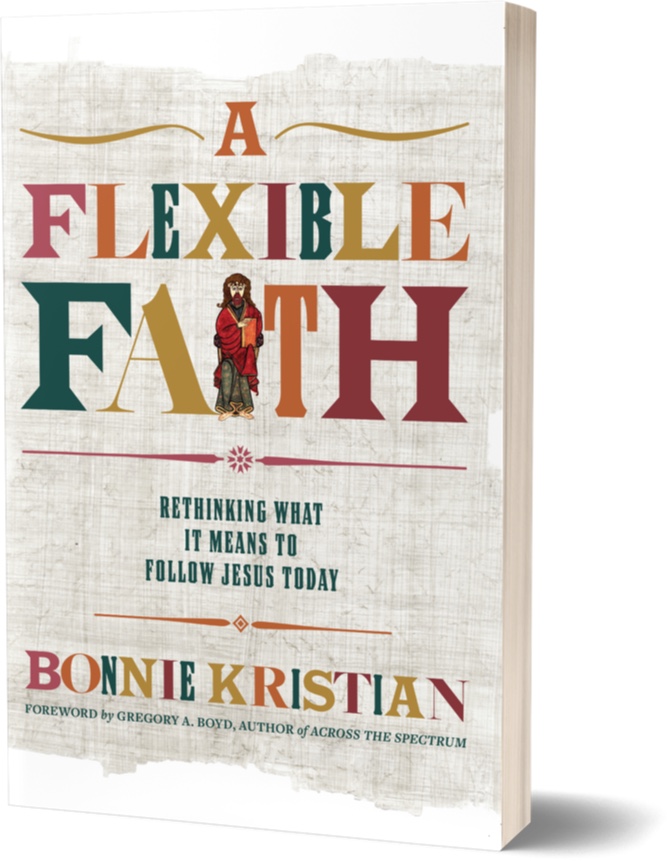 "Admirable clarity, fresh perspectives, and compelling conviction. This book will serve churches well if they want to introduce Christians to Christian theology but do so in a way that celebrates both where we agree and where we differ." - Scot McKnight, Julius R. Mantey Professor in New Testament, Northern Seminary and author of The Blue Parakeet: Rethinking How You Read the Bible
"Bonnie Kristian has created a thought-provoking guide to cultivating diversity instead of division. This is an eminently practical resource for believers, seekers, and the spiritually skeptical." - Jonathan Merritt, author of Learning to Speak God from Scratch
"Bonnie is a capable guide, exploring different textures and expressions of our faith over the history of the church. This is the perfect book for a small group or even an adult Sunday school." - Osheta Moore, author of Shalom Sistas: Living Wholeheartedly in a Brokenhearted World
"In A Flexible Faith, Bonnie Kristian provides a very helpful roadmap for navigating [Christianity's] diversity at a number of key points. Her discussions of the various viewpoints are clear, balanced, and winsome. Highly recommended." - Paul Eddy, pastor, professor of biblical and theological studies at Bethel University, and author of Across the Spectrum: Understanding Issues in Evangelical Theology
"A Flexible Faith is a necessary and powerful exploration of the many perspectives and possibilities contained within Christian orthodoxy. At a time of sharp decline for American Christianity, Bonnie Kristian's work offers hope." - Zach Hoag, author of The Light is Winning: Why Religion Just Might Bring Us Back to Life
"What a terrific service Bonnie Kristian has provided! With her A Flexible Faith, anyone who is curious about the contemporary Christian Church will find clear guidance regarding beliefs and practices, enabling that person to make thoughtful decisions along their spiritual journey." - Dennis R. Edwards, senior pastor of The Sanctuary Covenant Church and affiliate professor at Northern Seminary
"In A Flexible Faith, Bonnie Kristian offers not only real stories, practical resources, and points for discussion, but she also highlights the beautiful textures of diversity within our faith that will be healing and hopeful to many." - Kathy Escobar, co-pastor at The Refuge and author of Faith Shift: Finding Your Way Forward When Everything You Believe Is Coming Apart
"I wish this book had been available to me when I was much younger. ... This book will show you that Christianity is richer and fuller than any one person's viewpoint." - Shane Blackshear, host of the Seminary Dropout podcast
"Many thoughtful Christians I know struggle to articulate what they believe, how they came to believe it, and what traction that belief has in their lives. I am now delighted to be able to hand these friends A Flexible Faith." - Margot Starbuck, author of Small Things with Great Love
Still waiting for your copy to arrive? Check out these adapted excerpts: